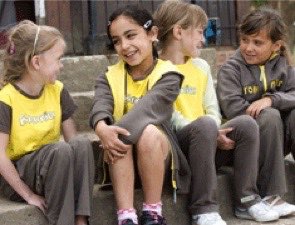 1st Wilstead Brownies
Brownies is for girls aged seven to ten.
Brownies become a member of a Six (ours are called Sprites, Elves, Imps, Gnomes and Kelpies) and follow a programme called the Brownie Adventure. The name reflects the world of exciting opportunities, challenges and fun that is Brownies.
Girls can participate in a wide range of activities at the regular meetings, and at special events, day trips and holidays. They can find themselves trying out arts and crafts or recipes, playing energetic games, taking part in community action projects, or learning new skills.
Girls can also extend their knowledge and abilities by working towards Brownie interest badges covering many different hobbies and activities from Science Investigator to Circus skills.
The Brownie Adventure is divided into three areas:
· you
· community
· world
You:
Brownies develop confidence and self-esteem through having new experiences and learning new skills. They build friendships and learn to share and co-operate with others by working together in small groups called 'Sixes'. They get a say in what happens at Brownies through discussions or 'Pow-wows', which help them develop decision-making skills and the ability to put their views across.
Community:
We encourage girls to become active citizens by helping them understand and participate in their communities. This could mean raising money for charities or visiting local places of interest.
World:
Our programme encourages girls to learn about the wider world. Activities could involve celebrating a festival from a different culture, finding out about endangered animal species, or learning how they can combat climate change.

If you'd like to find out more about 1st Wilstead Brownies, you'd like to volunteer, or you'd like your daughter to join our waiting list, please visit our website:
www.1stwilsteadbrownies.webplus.net
We can also help you find a local Rainbow unit (for girls aged 5-7) or Guide unit (for girls aged 10-14).
You might also like to visit the Girlguiding UK website: